Nothing But Music: Luxman and Vivid
There was a jovial, festive vibe in Philip O'Hanlon's On A Higher Note room, featuring Luxman amplification and source components, Vivid loudspeakers, and music courtesy show attendee, Raymond.
As I walked into the room, O'Hanlon explained that Raymond had been knocking everyone's socks off with his vinyl selections.
"As much as I like the music I brought, I'm also kinda sick of it," O'Hanlon chuckled. "What's next, Raymond?"
Raymond dug through his bag of vinyl and handed O'Hanlon a record. The charming host took that record and placed it on Luxman's PD-171 belt-drive turntable ($6200, including tonearm and dustcover), the first turntable to come from the Japanese company in 28 years. O'Hanlon explained that Luxman's been developing the PD-171 for over four years, and, while it maintains the line's retro appearance—it sports a wooden sub-chassis and includes a stroboscope window and LED lamp—it's also full of modern technology, such as a 32-bit processor for the digital speed controller.
The rest of the system was made of Luxman's SQ-38u tube integrated amp ($6000, with phono stage; review to come from Art Dudley); D-38u CD player, with both tube and solid-state output stages ($4000); Transparent Audio's Ultra interconnects and power cords; and the rather beautiful Vivid B-1 loudspeakers ($14,990/pair, review by John Atkinson to appear in our October issue!). When O'Hanlon wasn't spinning records, he was spinning tape on a SonoruS ("more than a modification") ATR10 reel-to-reel deck.
As O'Hanlon placed the record on the platter and brushed it clean, he told the audience a little story about his room. As is typical for these events, many of the rooms at the Crowne Plaza Hotel posed challenges for the exhibitors. They dealt with these challenges in many ways—most used ASC room treatments, blankets, and clever loudspeaker positioning—and, while the results were often acceptable, few exhibitors were actually satisfied.
"We had this one note," O'Hanlon said, gesturing broadly, "and it came into the room, and it kinda waved its arms like this, and then it wandered around the room for a bit and, oh my god, we thought it would never leave…"
Fortunately for O'Hanlon (and the attendees), Music Lovers contributed some ASC Tube Traps and O'Hanlon was further able to dampen reflections by hanging blankets over mirrors and headboards. "Before that," he confessed, "I was so depressed."
It was an old Gene Ammons LP and O'Hanlon cued it up on the Luxman turntable. The music blossomed into the room with stunning presence and lifelike scale. This was luxurious sound with a beautiful sense of space, natural attacks, and long, lovely decays. The system sounded romantic when the music called for it, direct when the music called for it, and was always harmonically rich, full-figured, and detailed. Not only did the loudspeakers disappear, but the entire system disappeared, the room and all its challenges disappeared, leaving nothing but music.
(For all you copy editors out there: No, the room didn't really disappear. I'm just being metaphorical.)
Luxman LP-171 turntable with arm ($6200)
When Luxman introduces a turntable after 28 years, it's big news! This belt-drive 'table weighs in at over 50 pounds, and uses a 32-bit speed controller, as well as a massive power supply from a Luxman amplifier.
When mated with Vivid B1 speakers ($15,000), Luxman electronics, and a Brinkman π cartridge, the sound emerged from a quiet, black background with very good focus and soundstaging. A real treat was listening to the 12" single of Lou Reed singing, "Take A Walk On The Wild Side." I've never heard that piece sound so good.
California Audio Show Part X: Conclusion
Luxman and Vivid Are Exactly That
Up close and personal
I'm so glad I saved Philip O'Hanlon's On a Higher Note exhibit for one of my final visits. The sound was such a delight. Philip played the same Ray Charles – Betty Carter duet, on a vinyl test pressing for Acoustic Sounds, that I heard in the Wells Audio room. This time, through Luxman's first turntable in 28 years and adorable Vivid loudspeakers, the sound was far more detailed.
Need I say that when Philip, who was definitely in a groove, followed suit with Ella and Louie, the sound was equally wonderful and complete. Just as delightful was the fact that the music seemed tailor-made for Luxman's vintage look.
The equipment included the due-in-the-fall Luxman PD-171 belt drive turntable, which has a 32-bit processor in the digital speed controller ($6200 with tonearm & dustcover); Luxman SQ-38u tube integrated amp with an on-board phono stage ($6000); Luxman D-38u CD player with both tube & solid-state output stages ($4000); an unheard SonoruS ATR10 reel to reel deck with all new; and Transparent Audio's "ultra" interconnects & power cords. The speaker was the highly praised Vivid Audio B1 ($14,990).
--------------------------------------------------------

Musical Highlights Of the San Francisco Show
1. Ray Charles & Betty Carter. track 1, Side 2 "Baby Its Cold Outside"
This is not your normal duet where both singers more or less sing the same lines or else trade verses. This is much more like the male / female relationship where Ray is singing what is on his mind and Betty has a different opinion, neither waits for the other to finish before singing their refrain. Both singers are on form and the LP is worth buying just to put a huge smile on your face. Analogue Productions.
2. Gene Ammons "Boss Tenor" track 3, side 1. "My Romance"
Richard Rodger's poetic melody confirms Ammons as the master interpeter. In short, its as good a sound as the tenor saxophone is capable of producing. Sound Quality is a 10/10 Analogue Productions' 45 RPM re-issue is the way to go.
3.

On A Higher Note
On A Higher Note is the US distributor for Audioaero, Luxman, Brinkmann, and Vivid Loudspeakers, and Philip O'Hanlon is its founder and president. Philip is also another guy that gets it. Music that is. Actually Philip O'Hanlon has seemingly mastered the art of music presentation and is one of hi-fi's more endearing characters. You really don't want to leave while the bow-tied and nimble-footed Mr. O'Hanlon is spinning the tunes or telling stories.
To make matters better, the system we listened to was absolutely musically engaging to the extreme. It included the Vivid Audio G2Giya loudspeakers ($50,000/pair), Luxman M-800A class-A stereo amplifier ($19,000), Luxman E-1 phono stage ($4000), Brinkmann Oasis direct-drive turntable ($13,400), Brinkmann 9.6 tonearm ($4000), Brinkmann Pi cartridge ($2700), Audioaero La Source CD/SACD player also used as preamp ($44,000), with Crystal Cable in use throughout.
We listened to Lou Reed's "A Walk On The Wild Side" on 12" 45rpm vinyl and Rokia Traoré's wonderfully quirky version of "The Man I Love" and Peter Gabriel's "The Boy In The Bubble," both on CD, and I wish I had had time for more.
From Clark Johnsen's Diary: A Short Report From Newport Beach
And then, On A Higher Note, featuring owner/presenter Philip O'Hanlon. This exhibit defies any rating, because Philip, through clever choice of superior source material, sonically and musically, must be declared hors de combat. To rate him and anything he represents would be unfair to everyone else. And that's against the law of social justice. But it all sounds grand… and always does. Okay, I should say, what we audition are the new line of revitalized Luxman electronics, Vivid Loudspeakers (from South Africa, yet) and a Brinkman turntable. And more. Look it up. I urge you.
Full Positive Feedback Show Report here

Vivid Audio G2 Giya Speaker at T.H.E. Show
Last week at T.H.E. Show in Newport Beach, CA, I heard the G2 Giya speaker from
Vivid Audio
for the first time. This is the newer, smaller sibling to the original G1 Giya, both of which
I profiled here
.
The G2 Giya was being demonstrated by high-end distributorr On a Higher Note using a Brinkmann Oasis turntable, modified Revox PR99 reel-to-reel tape deck, Luxman E-1 phonostage, and Luxman M-800A 2-channel power amp. Diana Krall's Live in Paris LP sounded deliciously open, and a tape of Nat King Cole and George Shearing one generation away from the original master was gorgeous, with surprisingly excellent quality for being some 50 years old. The G2 Giya speakers did these recordings proud with excellent bass extension, a clear midrange, and plenty of top-end air, even in a funky hotel ballroom.
--------------------------------------------------------

Musical Highlights Of the Newport Beach Show
1. Ella Fitgerald & Louis Armstrong "Ella & Louis"
I already have the Speakers Corner & a Japanese re-issue, but Chad's reissue is from his brand new record plant and the quality is head & shoulders better than its predecessors. This is music for the Gods; Satchmo blows some remarkable trumpet and his singing with Ella Fitzgerald will send a cold shiver down your spine.

2 x 45 RPM LPs Anologue Productions upcoming re-issue

2. Cat Stevens "Tea For The Tillerman"
On Michael Fremer's recommendation I went out and bought a pink UK Island original pressing a few years back. This smokes it; as if a veil were removed in front of the music.
"Hard Headed Woman", Wild World" from Anologue Productions upcoming re-issue
3. Stan Getz & Jao Gilbert "Getz, Gilberto"
"Girl From Ipanema" 2 x 45 RPM LPs Anologue Productions upcoming re-issue

On a Higher Note
In a room sponsored by the California-based distribution company On a Higher Note, Vivid's entry-level loudspeaker, the V1.5 ($7700/pair and photographed here by Robert Deutsch) sounded immediate, lushly textured, and vivid indeed: Voices, violins, drums, and—especially—saxophones leaped from their respective mixes with presence, power, and beauty. Associated gear included the SQ-38u integrated amp ($6000) and D-05 CD player ($5000) from Luxman, full-monty Bardo record player from Brinkmann (including enhanced Origin Live Encounter arm and Brinkmann Pi cartridge: $12,300 for the package), and a full array of premium cables from Kubala-Sosna—whose proprietor, Joe Kubala, also played some of his own superb recordings through the demonstration system.
While listening to the Vivids, it finally dawned on me that an inspiration for their unusual yet acoustically sensible shape might have been an ancient shape known as the Vesica Piscis (literally, the bladder of the fish), the contours of which have, over the centuries, inspired the Roman Church, Ordo Templi Orientis, and the late, great Philip K. Dick. My friend John Marks should look into this!
Robert Deutsch adds: SSI 2011 had some truly impressive demos featuring price-no-object equipment—Fidelio's demo featuring the big Sonus Fabers, Peter McGrath playing back his own recordings on the Wilson Alexandria 2s, and the MBL 101 Mk.II demo come to mind—but the one I kept going back to for sheer listening pleasure was the system featuring a pair of Vivid Audio 1.5 speakers. (Well, this one and the system built around the Dynaudio Confidence C1 Mk.II.)
Presented by the ever-charming Philip O'Hanlon of On A Higher Note, this system consisted of Luxman digital source and amplification, Brinkmann turntable, and Kubala-Sosna cables. Total system price was $35,900, but the speakers themselves were a relatively modest—in the ultra-high-end context—$7700/pair. O'Hanlon played a recording of a jazz combo made by Joe Kubala which had a you-are-there presence that was breathtaking.
Full show coverage here

--------------------------------------------------------

Musical Highlights Of the Montreal Show
1. Lour Reed "Transformer" "Walk On The Wild Side" 12" 45 RPM Single

Vivid G2Giya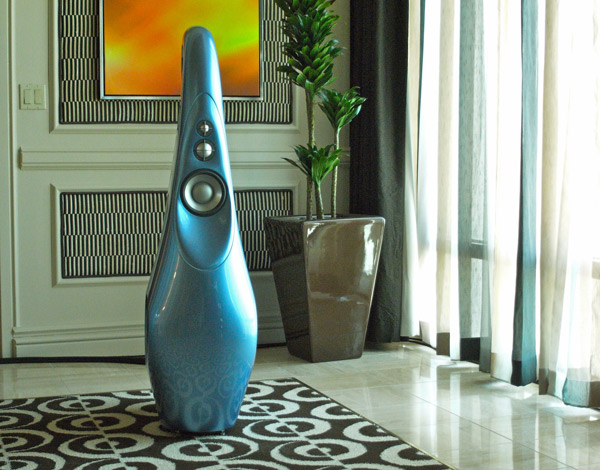 My other joint best sound at CES was to the On a Higher Note room at the Mirage Hotel across the street from the Venetian. On dem was the G2Giya ($50,000/pair), which made its debut at the 2010 CES, driven by a Luxman stereo amplifier, and the Audio Aero La Source tube preamp/digital player, hooked up with Shunyata's new Anaconda line of cables.
The G2 has half the cabinet volume of the similar-looking G1Giya that Wes Phillips reviewed last July, and replaces the larger speaker's twin 11" woofers with 9" units. Whether it was the smaller speakers not exciting the penthouse room's acoustics as much as had the G1Giya the previous year—the Mirage's glass-fronted rooms may give spectacular views of Las Vegas, but they also flap at low frequencies—or the new front-end and cables, but the sound on José Carreras singing the audiophile classic Misa Criolla, Peter Gabriel's idiosyncratic but convincing reading of Paul Simon's "The Boy in the Bubble," and the unexpected combination of John Lee Hooker dueting with Miles Davis, from the soundtrack to the movie Hot Spot was to die for, the system simply stepping out of the way of the music. As it should.
Full Stereophile CES coverage here
•
© Copyright On A Higher Note, LLC 2013
On A Higher Note Phone +949-544-1990